Prenatal Massage Burnsville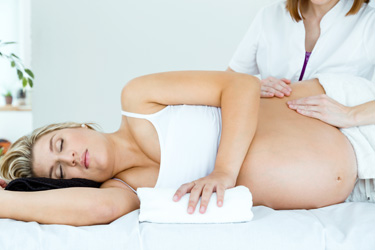 Amesbarry Chiropractic proudly offers prenatal massage to expectant mothers. Similar to traditional massage, it aims to relax tense muscles, ease sore spots, improve circulation, and increase overall mobility.
However, prenatal massage requires unique training and expertise as it accommodates the specific needs of women and their changing bodies. We are here to help your pregnancy go as smoothly as possible.
Gentle and Safe
Our ultimate goal is for you to be comfortable throughout your pregnancy. Given the nature of this type of massage, our massage therapist listens to your complaints and works gently to get the job done. As the first trimester is the most fragile, we begin to see clients once they have reached 3 months in their pregnancy.
It is at this time that we are able to deliver the most effective massages. During your appointment with us, you can expect a light tissue massage laying on either your right or left side. You will also have surrounding supports, such as bolsters and pillows, to keep you comfortable.
Benefits of Supplemental Massage
Chiropractic care and prenatal massage work together to keep pregnant women comfortable and safe. With adjustments focused on realigning the body and massage aimed at relieving tension within the tissue, chiropractic and massage are proven to keep the muscles loose and promote increased comfort during pregnancy and the birthing process.
The additional load placed on the lower back from the excess weight being carried in the front are most effectively addressed using both methods of prenatal care.
Does it work for all pregnant women?
Prenatal massage works for a variety of expectant women. No matter your build or the way you are carrying, you may be able to benefit from this safe, strategic care. While most pregnant women are compatible with prenatal massage, there are rare cases, (such as a fragile pregnancy), in which it might not be suggested.
Many women are seen once a month, but frequency varies based on existing need. Make sure to communicate your feelings throughout the duration of your visit. Your comfort is important to us!
Contact our practice today to schedule your visit.
CONTACT US »

Prenatal Massage Burnsville | (952) 894-9888