Reflexology Burnsville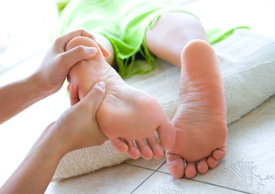 Used to relieve tension and treat illness in the body, reflexology is based on the theory that there are reflex points on the feet and hands are linked to every inner part of the human body.
When specific pressure is applied to certain areas of the feet or hands; pain, discomfort and other issues are often relieved elsewhere within the body. Amesbarry Chiropractic is glad to offer this additional course of care.
Can Anyone Benefit From Reflexology?
The answer is yes! Every person can reap the rewards of quality reflexology. As each reflex point is connected to an organ inside the body, there is almost always a way to address your pain or issue using this method.
Once we determine the source of your issue, we are able to apply needed pressure to the pressure point on foot corresponding to the area of the body having interference issues. Treating your body with reflexology encourages better health.
What to Expect
With the help of our expert reflexologist, each appointment is customized to suit the needs of the individual. During your time with us, we will discuss your health concerns, provide a thorough explanation of your upcoming care, and work within your comfort level. Each visit will last for 60 minutes, 45 minutes of that time is spent on foot pressure points; the last 15 minutes can be spent on massaging an area you are tight and would like massage. If you would like the whole hour spent on your feet she will do that as well.
While most reflexology appointments are referrals from our in-house chiropractors, everyone is welcome to make an appointment. If you are interested in reflexology services, please contact our office.
We are glad to answer any questions you might have! To learn more and find out if this is a good option for you, contact our practice.
CONTACT US »

Reflexology Burnsville | (952) 894-9888